Luna Labs has created a groundbreaking industrial process aimed at increasing manufacturing productivity, enhancing energy and resource efficiency, and lowering carbon emissions in soda and chlorine production. The company's hydrochloric acid (HCl) extraction technology enables efficient salt separations, affecting the production of HCl, chlorine (Cl2), sodium carbonate (Na2CO3), and other domestic products on a millions-of-tons-per-year scale. Luna Labs' distinctive chloride extraction method, known as Advanced Solvay, eliminates the need for expensive chemical consumables.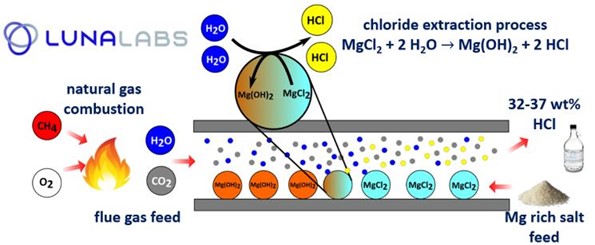 Key Features
Enables the profitable transformation of salt and salt mixtures into value-add chemicals that can be sold commercially.   
Improves manufacturing productivity, is more energy efficient, uses resources efficiently, and decarbonizes the production of soda and chlorine. 
Integration of our HCl extraction technology decreases the cost and carbon dioxide (CO2) emissions associated with the sustainable production of sodium carbonate and chlorine. 
Working Principle
The technology minimizes the use of prohibitively expensive chemical consumables and uses minimal amounts of energy to pyrolyze MgCl2 to produce magnesia (MgO) and HCl. 
Current Status
Luna Labs has applied the technology into a bittern valorization process enhancing the productivity of mineral manufacturing by pyrolyzing the magnesium chloride-rich mixture to produce HCl. 
There is currently a patent pending and the technology is available for license or co-development.